Branding. Research. UX/UI.
Type1 International is a non-profit organization that advocates, supports and stands up for Type1 Diabetics rights all around the world.
Their mission is to make insulin, diabetic supplies and medical care access a right, not a privilege.
They have helped millions of communities across the world by educating, raising awareness, campaigning and collaborating with individuals and existing organizations of like minded people.
Type1 International makes it a point to be transparent about their expenditures and accepts no money from pharmaceutical companies that would manipulate or filter their efforts.
The goal of the project was to re-design their identity to create a more unified brand that appropriately represented their cause. Along with that I created elements to help promote their agenda. To accomplish this, I researched and gathered information from their
website
and other diabetic sites.
Their approach to battling diabetic disparities has always been done by creating awareness within local communities. I wanted to create a logo that represented that. I combined the up and down arrows that are traditionally found on devices designed to monitor glucose levels and a simplified blood drop. Together they represent the birds eye view of two heads and shoulders coming together to lift each other up for a common good.
While contemplating the name change their mission was considered, likewise was their audience. The choice was made to rename their organization from Type1 International to TypeOne Undounded. The 1 was spelled out and unbounded was chosen to not only signify the global scale of their organization but their limitless efforts to reach their goals.


The tragic stories that I read in my research propelled me to find who was responsible for all the high insulin prices. I created an ad campaign that shined the light on the companies and the role that they play in the lack of insulin supplies and care. The tagline "insulin is a right not a privilege" targeted the main message TypeOne is trying to spread.
TypeOne Unbouded has a big community of followers on their social media. I created an Instagram filter that allows them to share how much their insulin prescription costs to bring awareness to the issue of high prescription costs. A brochure in a shape of an insulin bottle was created to introduce, inform, and create awareness, with the goal of getting the viewer to join the organization.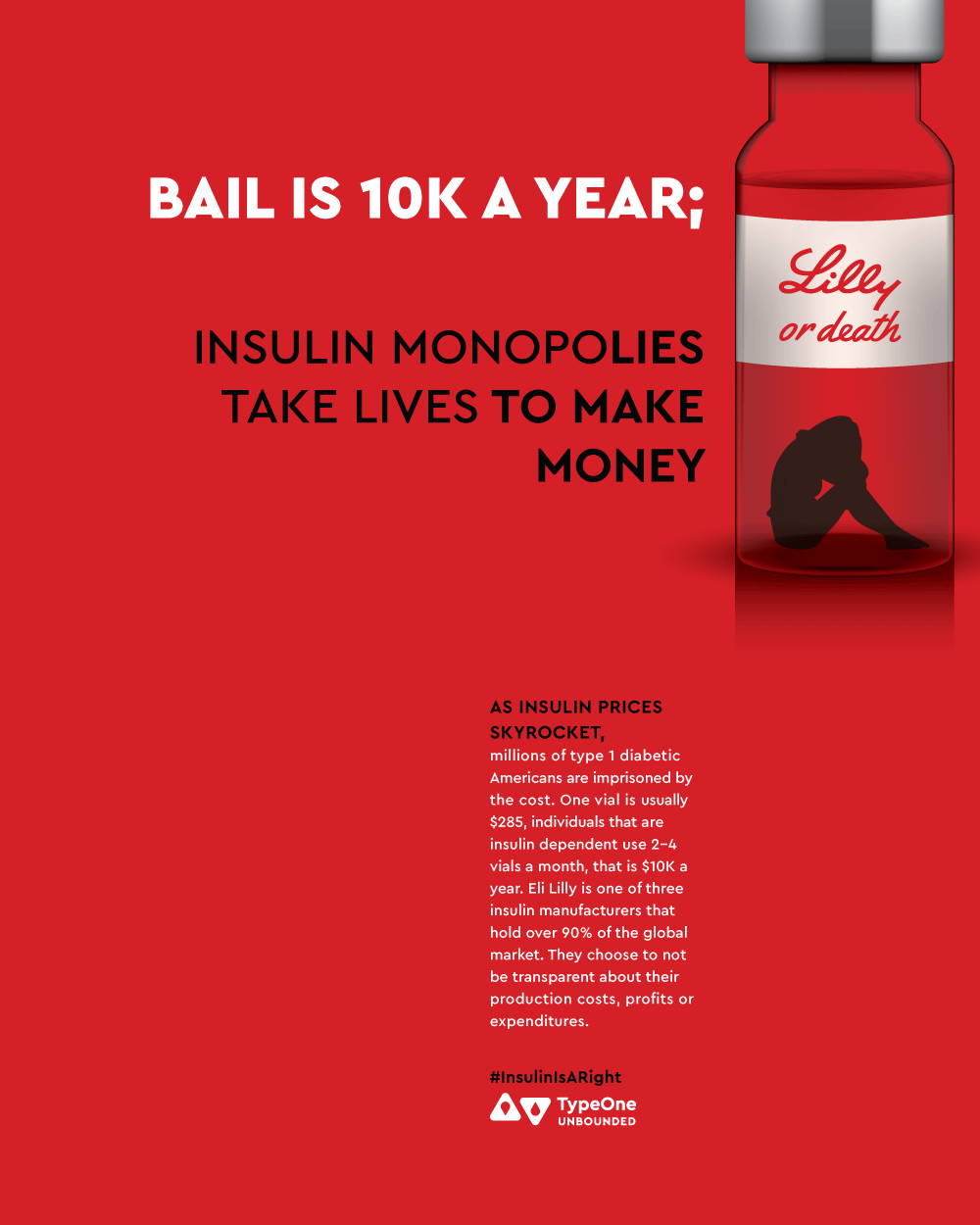 How will we reach our goal?
Helping Damian join a chapter
A landing page was created that was tailored to suit the needs of people like Daiman. From the user flow map we learned that to reach our long-term goal of changing laws we need people to join chapters to target the lack of rights people with diabetes face in their own communities.
To make it more relatable to people that are considering joining a chapter, a narrative is presented of changing people's horror stories. In Sam's case she had lost her life because of her lack of access to insulin.